While there is a lot of weather data available on the Internet for free, sometimes the data is old or hard to read. Some companies provide more current and easier to interpret weather data but for a fee. Below are some of these companies that we use and like.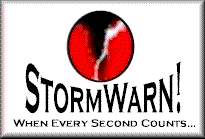 Watches, warnings, special weather statements, SPC outlooks, more E-mailed to you as they are issued.
http://www.stormwarn.com
If you know of any good companies providing weather data for a fee, please submit them through our Contact Us form and select "Weather Link" from the drop down menu.

© 2001 Weather Edge

Content and pictures may not be reused without written consent.